Tychem® TK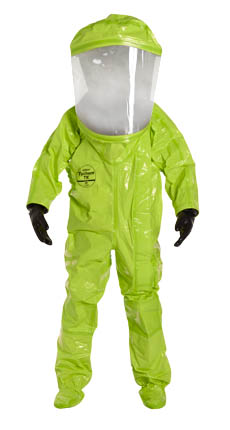 OSHA Level A & B
Tychem® TK is specifically developed for protection against toxic, corrosive gases, liquids and solid chemicals. This high=performance chemical barrier fabric is ideally suited for industrial, HazMat, and domestic preparedness applications. Tychem® TK offers proven protection with proven performance over a wide range of chemicals.
Premium protection against toxic and corrosive gaseous, liquid and solid chemicals—see the Tychem® Permeation Guide

Leading garment chosen by HazMat responders worldwide

Extremely durable, puncture- and tear-resistant fabrics

Wide range of garment styles available, including totally encapsulated, vapor protective Level A Hazmat suits and liquid-splash protective Level B suits

Tychem® TK provides at least 30 minutes of protection against 322 chemical challenges

Tychem® TK is high-visibility lime yellow
Tychem® TK exhibits outstanding chemical barrier properties. An extremely durable fabric that's puncture- and tear-resistant, its barrier has been tested against 260 challenge chemicals with no observed breakthrough after exposures of up to 8 hours. Excellent permeation data from stringent ASTM testing substantiates the uncompromised protection available with Tychem® TK.
Tychem® TK is available in totally encapsulated vapor protective Level A suits and liquid-splash protective Level B
suits. It is also available in ensembles certified to the NFPA 1991 chemical/biological option. The lime-yellow color of Tychem® TK is highly visible in both bright and dim light, offering greater safety in emergency situations.
Product name soon to be changed to Tychem® 10000