Tychem® F

Protective garments made of Tychem F provide strong, lightweight liquid splash protection for law
enforcement, emergency medical services (EMS) technicians and military personnel responding to an incident involving chemical, biological or radioactive agents.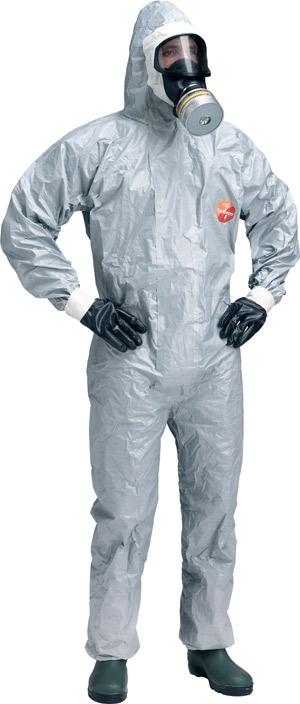 Easy to use and wasy to wear, garments made of Tychem F are lightweight and flexible, and can be folded into small packages for easy storage and portability.
Widely used by military personnel and first responders for chemical warfare situations.
Strong and durable garmetns with broad chemical barrier.


When potential explosure to industrial chemicals and chemical warfare agents exists
Successfully tested by Soldier and Biological Chemical Command (SBCCOM) in Alberdeen, MD





Tychem F is a barrier film laminated to Tyvek




Tychem F provides at least 30 minutes of protection against 181 chemical challenges
Product name soon to be changed to Tychem® 6000
For Pricing Call 800-537-5504

DuPont™ Tychem® F Coverall. Respirator Fit Hood. Elastic Wrists and Ankles. Storm Flap. Taped Seams. Gray. Case Qty: 6 Estimated Lead Time: 10 Business Days

Learn More

For Pricing Call 800-537-5504

DuPont™ Tychem® F Coverall. Respirator Fit Hood. Elastic Wrists. Attached Socks. Storm Flap. Taped Seams. Gray. Case Qty: 6 Estimated Lead Time: 40 Business Days

Learn More