SunGard FR Coveralls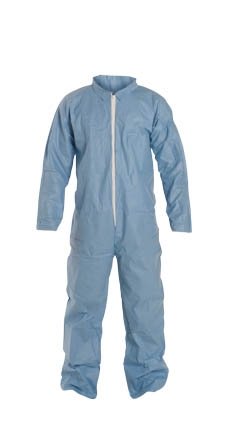 Finally, an economical, disposable fabric with flame retardancy
Worn over thermal protective garments., protective apparel made with SunGard FR protects the worker and the worker's clothing from contamination by hazardous, non-hazardous, and flammable materials without compromising thermal protection.
Ordinary disposable protective apparel offers excellent protection from liquid, chemical, or particulate hazards. However, these garments are often unsuitable for use over durable thermal protective garments. Because they are not flame retardant, ordinary protective apparel will melt and drip. When exposed to large-scale flames. In many instances, using non-flame retardant protective apparel may actually contribute to burn injury.
Limited use protective apparel made of SunGard FR is engineered to be worn over thermal protective garments and protect workers by preserving the maximum insulative capacity of thermal protective garments, while providing a barrier to other non-thermal hazards.
SunGard Fr Garments protect works and their thermal protective clothing from:
Paint, grease, oil, dirty, and asbestos
Hazardous dry particulate
SunFard FR garments reduce the cost of maintain durable thermal protective clothing such as Nomex IIIA.
SunGard FR garments prevent durable thermal protective garments from becoming contaminated by flammable materials like paint and grease.
SunGard FR fabrics pass NFPA 701, 1989 and 1996 methods, and have been evaluated using large-scale thermal mannequin testing, and electric arc testing. All test results indicated that garments made with SunGard FR fabrics will not contribute to predicted body burn injury in the event of a flash fire or electric arc.
SunGard FR Fabric Description
All SunGard FR Fabrics employ a base fabric of manufactured hyderentangled wood pulp/polyester fabric – a tough, lightweight, breathable cloth-like material. The fabric is then topically treated with phosphate-based flame retardant chemical.
The combination of the wood pulp and the FR chemistry cause the wood pulp to char at temperatures below the fabric's ignition point. This deprives the flames fuel source and provides a dry, rigid structure for component polymers to adhere to, preventing molten or flaming drips.